Effective Pest Control Plans To Keep Your Georgia Or South Carolina Home Pest-Free
With Jury Pest Services' 5-Zone approach to residential pest control, you can be confident that when you partner with us, your entire house will remain protected from the pests most commonly known to infest homes here in the Aiken and Richmond Counties of South Carolina and Georgia. At JPS, our team of pest control experts in Aiken, SC and Augusta, GA take the health and safety of your home and family seriously and strive to provide you with only the best, highest-quality pest control services available. Contact us today to get started!
Our 5-Zone Home Pest Control Process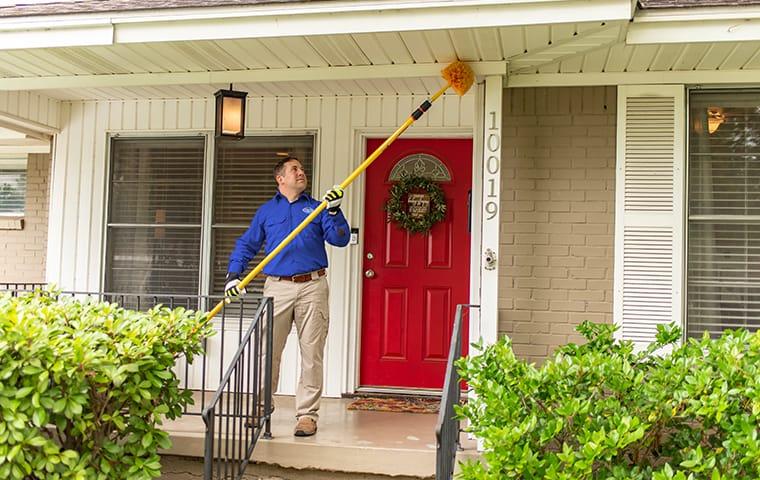 The best defense is always strong offense, which is the approach we take with our general pest control plan. Protecting against a variety of the most common pest invaders found in our area, Jury Pest Services' general pest control services are provided on a quarterly basis to keep your home pest-free all year long.
At Jury Pest Services, we take a 5-zone approach including both interior and exterior areas to our general pest control services to maximize its effectiveness.
Zone One: The Interior
To begin this process, we'll first do a thorough inspection of the entire home, focusing on areas where we find pests most often. Treatments are designed to prevent pests from getting in and include spraying cracks and crevices, sealing entry points, and placing bait on incoming and outgoing water sources. We always use the least invasive products first in order to keep your family safe.
Zone Two: Immediate Lower Exterior
In this zone, we'll inspect the exterior of your home for cracks in the foundation, wood-to-soil contact around the perimeter of your home, and other potential entry points or areas conducive to pest infestations. Our team of trained professionals will treat these areas with targeted application of a residual liquid insecticide.
Zone Three: Immediate Upper Exterior
In this zone, we inspect for gaps around doors and windows, treetops that touch the roof, and other areas that may cause moisture problems. We then treat with a targeted application of a residual liquid insecticide. This area is also prone to wasps and spiders, so we address any that we find up to 10 feet away, and remove all spider webs.
Zone Four: Ornamental Zone
Granular bait is used to treat ornamental beds to penetrate mulch, pine bark, and pine straw. These areas tend to harbor pests, but this application gets to their hiding areas.
Zone Five: Inspection Zone
We perform a visual inspection around the outskirts of your property. We look for areas conducive to pest problems, such as wood lines, trash piles, and standing water.
*Covered pests include ants, cockroaches, spiders, scorpions, wasps, silverfish, earwigs, millipedes, centipedes, flies, springtails, house crickets, and pill bugs.
Our Specialty Pest Control Offerings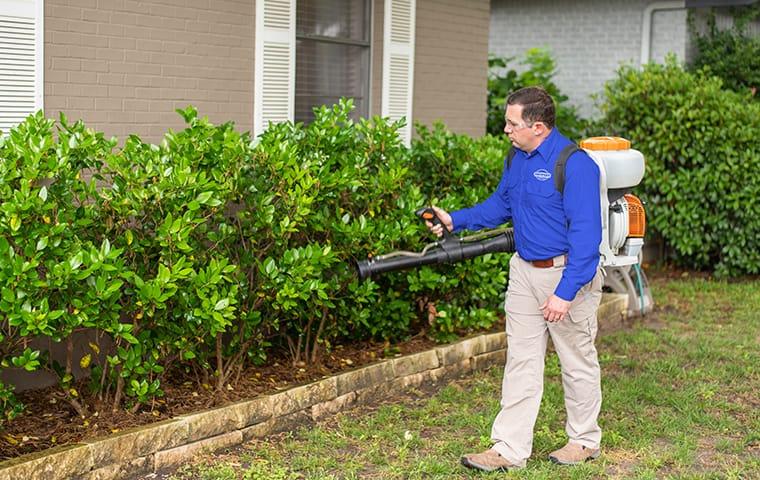 When certain pests invade, you'll need specific pest control methods in order to eliminate them. That's where we come in! Jury Pest Services offers a wide variety of targeted pest control solutions all your pest control needs. Please visit the corresponding pages to learn more about our specialized pest control services:
From our professional-grade bed bug, mosquito, flea, and termite control treatments designed to keep your property pest-free to our lawn maintenance plans and crawlspace encapsulation services, Jury Pest Services is here to help!
Proudly Protecting Central Savannah River Area Homes & Families Since 1947
As residents of South Carolina & Georgia ourselves, the owners and employees here at Jury Pest Services understand the value and difficulty of keeping our homes pest-free. The climate here lends itself to pest infestations of all kinds, which is why we have been working diligently since 1947 to rid homes of these problems. At JPS, we have the knowledge and drive to eliminate your pest problems and protect your home and family from the damage and contamination issues pests cause. We provide our professional residential pest control services to Columbia County, GA, Edgefield County, SC, Barnwell County, SC, and beyond. Contact us to get started!
Schedule An Inspection Today!
Complete the form below to request an inspection.