Effective Bed Bug Control For Aiken, SC & Augusta, GA
Once bed bugs invade your home in South Carolina or Georgia, they make life miserable by causing sleepless nights and stress with their biting. DIY treatments won't take care of these tiny pests, and if left alone they'll only grow in population. Eliminate bed bug infestations with the help of a bed bug control plan from JPS!
Our Professional Bed Bug Control Offerings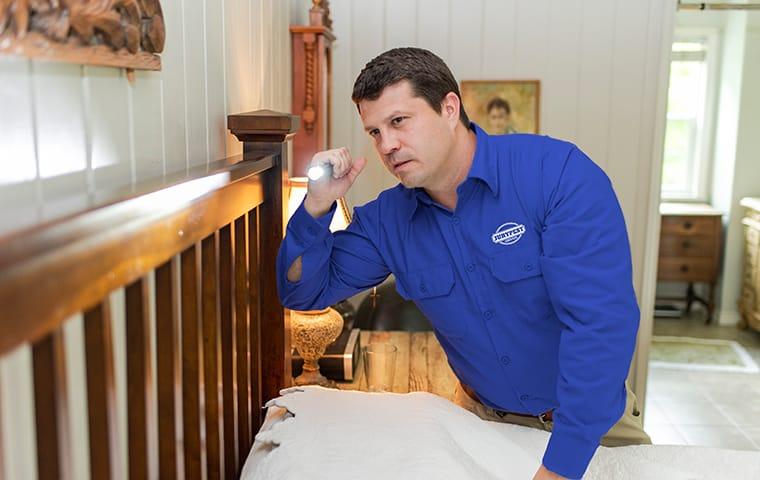 Bed bugs don't discriminate when it comes to where they make themselves at home, which means your home is just as vulnerable as any other home when it comes to an bed bug infestation. Jury Pest Services offers two different types of treatments that eliminate bed bugs in all stages of development, ensuring their complete eradication from your home! We also provide treatments for single rooms or your entire house, depending on the size of the infestation.
Bed Bug Inspections
To determine how extensive your bed bug infestation is and where treatment is necessary, we begin every bed bug control treatment by performing a thorough inspection to discover all signs of bed bugs. Based on our findings during this inspection, we'll recommend which bed bug treatment will be most effective.
Conventional Bed Bug Treatments
For smaller-scale bed bug infestations, we'll apply conventional bed bug treatments in hotspots for bed bug activity such as mattresses, boxsprings, bed frames, headboards, upholstered furniture, outlet covers, behind picture frames, and other cracks and crevices to stop infestations before they have the chance to spread.
If you choose to have our bed bug service performed within two weeks of the initial inspection, we'll apply the inspection fee towards your overall price of service.
Take Back Your South Carolina Home From Bed Bugs!
When bed bugs get into your house, they'll destroy your peace of mind. Take it back with the help of a bed bug control treatment from Jury Pest Services. We will eliminate your bed bug problem, so you won't have to worry about it anymore. We provide our professional services to homes and businesses in Columbia County, GA, Edgefield County, SC, Barnwell County, SC, and beyond. To request your inspection and get started with your bed bug control service, contact Jury Pest Services today!
Schedule An Inspection Today!
Complete the form below to request an inspection.