Proudly Serving Aiken, SC & Augusta, GA Since 1947
Founded in 1947 by the late Curtis Kneece, Jury Pest Services has provided effective pest control services to the Central Savannah River Area for 70+ years. With decades of collective experience, knowledge, and problem-solving for a wide variety of common South Carolina and Georgia pests, our service technicians are the best in the industry!
What Sets Jury Pest Services Apart?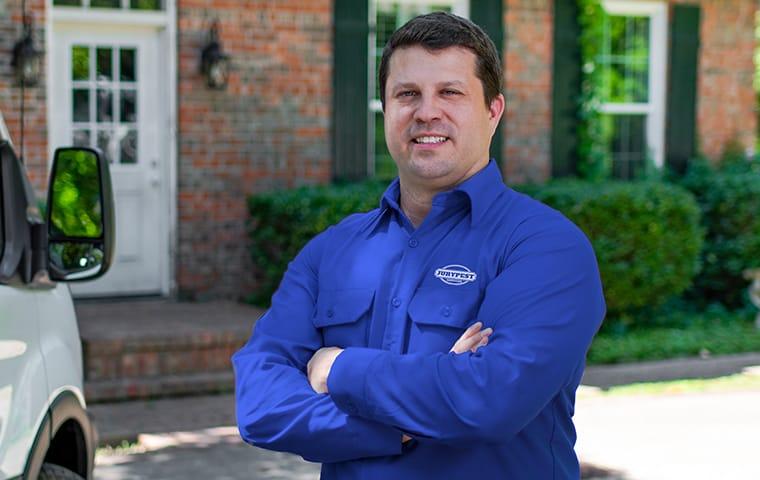 Pest control businesses come and go, but Jury Pest Services has withstood the test of time. Our experience and knowledge of all things pest-related give us a unique advantage in the pest control industry. What else sets us apart?
Our goal is to foster great, long-lasting customer relationships.

We pride ourselves on providing honest work at fair prices.

We provide effective green pest control services.

Your peace of mind is important to us.

We offer encapsulation and lawn care services.

Our technicians are knowledgeable and experienced.

We work to solve your problem as quickly as possible.

We provide both residential and commercial pest control.

We service a large area – covering Aiken, Columbia, and Richmond Counties.

We are serious about training and education, and we stay up to date on the latest products, methods, and technology in the industry.

In addition to general pest coverage for homes and businesses, we also offer treatments for bed bugs, fleas, mosquitoes, termites, and more!
Our Service Makes The Difference – You Be The Judge!
At Jury Pest Services, we pride ourselves on exceptional service. We believe that treating our customers right is not only the right thing to do but also fosters relationships that last for years. See the difference our service makes. You won't be disappointed. We provide our professional pest control services to homes and businesses in Columbia County, GA, Edgefield County, SC, Barnwell County, SC, and beyond. To request your inspection or to schedule your service, partner with Jury Pest Services today!
Schedule An Inspection Today!
Complete the form below to request an inspection.